Do you use Excel to manage your data? If you are manually shifting data around, struggling to get the information you or are frustrated by scrolling through large datasets, these Excel hacks are for you.
1. Get Rid of Duplicates
Whether you are planning a mailing, trying to segment a list for marketing purposes or simply want to make sure you have clean data to work with, removing duplicates is a must. If your data came from someone else or the table has been floating around the office for a while, chances are it is not as clean as it could be.
Fast and Easy Duplicate Removal
Select all the data in the set
Find the "Data" tab on the toolbar and select; the tools will be revealed
Select the "Remove Duplicates" option
When the

dialogue

box pops up, choose the specific areas you'd like scanned for duplicates, or select all to check the entire spreadsheet
Click "OK"

Excel will immediately find and eliminate any duplicates in your data, resulting in a cleaner, easier to use spreadsheet. You'll get a pop-up window telling you how many pieces of data were removed and then be able to continue working, duplicate free.
2. Sort Cells in a Hurry with Text to Column
Need to break a cell down into component parts? If you are creating a mailing or other document and need first names separated from last names, you do not have to take the time to do it manually. This technique can be used anytime you need to separate information in a single cell and can be performed on a small group of cells or on an entire worksheet.
How to Separate Cells with Text to Column
Highlight the cells you want to separate
Head to the "Data" toolbar and select "Text to Columns"
A window will pop up featuring your chosen date
Choose the "delimited" option and click "Next"
Check the "space" option as the delimiter and click "Next"
Choose a cell for the results
Click "finish" and watch your data sort itself instantly into two columns
 
3. Move Data Around – Without Formulas
Want rows to be columns, or columns to turn into rows? You can swiftly transpose your data to make it easier to use and view in just a few easy steps. Once sorted, your data will be easier to read and understand, and you can swap it back at any time. Rather than manually rewriting everything, try this technique the next time you need to move information around.
Transpose Data Quickly and Easily
Select the whole group of data you want to transpose and copy to the clipboard with "Ctrl + C"
Choose a destination cell for the finished data
Choose the Clipboard icon from the toolbar
From the drop-down menu, choose "Paste"
Select "Paste Special" from the menu; a

dialogue

box will pop up.
Choose "Transpose" and select "OK"
Your freshly transposed data will appear in the area you've designated as the destination.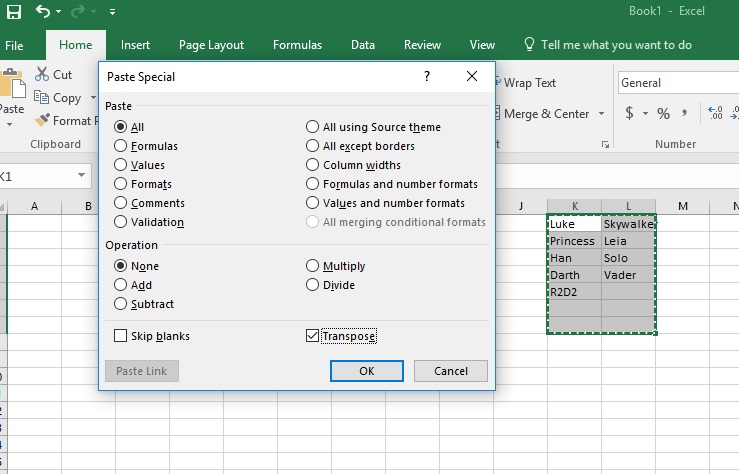 4. Conditional Formatting – Highlight Winners and Losers in a Hurry
Want to know who your top clients are, or which customers purchased from you the least amount of times in a set period? Conditional formatting allows you to swiftly sort your top performing customers – or any other data that feature numbers – and determine who used your services the most in the designated time.
How to Highlight Top (and Bottom) Values in Excel
Select the figures you wish to sort
Choose the "Home" tab and select "Conditional Formatting"
Choose "Top 10 Items" from the pop-up list of rules
Choose your favorite fill and text color form the popup box and press "OK"
The top 10 figures from your list will immediately be highlighted in your chosen colors for easy viewing

5. Stop Scrolling Through Large Sets of Data
If you have a large dataset, the scrolling back and forth can become annoying and difficult – every time you move things around to see your data, the headers will disappear. Freeze those headers in place to make it easy to tell what pieces of data belong in what columns.
Freeze Pane Keeps Large Datasets in Order
Select a cell directly above the headers you'd like to see with all data.
Choose the "View" tab; in the "Window" group, choose "Freeze Panes"
Select "Freeze Panes in the drop-down window and click "OK"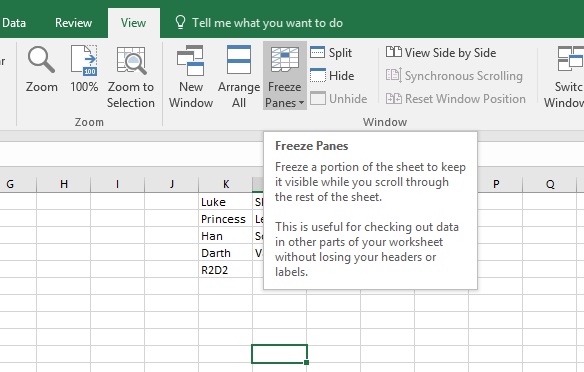 You'll be able to view your headers and identify your information from anywhere in the spreadsheet.
These Excel hacks are fast to learn, easy to use, and easy to remember. Best of all, they can boost your productivity and free up your time to work on other things.
There are also instances when a more robust data management solution is needed. In cases like this, a custom database solution may be required to provide you with the data you need.