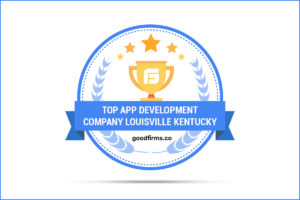 Thanks to reviews from our clients, GoodFirms has recognized us as a top app development company in Louisville! GoodFirms is a site that focuses on rating software companies and products based on user reviews (kinda like Google reviews, but specifically for the software industry). If you are a looking for a software product, or a partner for an upcoming project, check out GoodFirms as part of your vetting process.
We are grateful for the clients that have lent their feedback to help make us a top app development company in Louisville:
"Level 12 is always my number one choice for Software and development solutions. I've used Level 12 for several large tools in the Acquiring Payment space in which they build from scratch, maintained for the ongoing development and supported us for a long standing relationship. An additional note, if you're also looking for API development, this is your team! You will not be disappointed regardless of what your Software needs are or what your business segment may require." – Director of Business Technology at Fortune 500 FinTech company
"We were kind of making our way through the dark a little bit and hoping for the best outcomes. And I think what we needed to do was find somebody that could help us with the the proper expertise and guidance and kind of have a flashlight in the dark for us to get get through that time. Randy is helping us not only continue to guide new ideas that come up, but also to shape how they should be deployed and prioritized in the business based on user behaviors. Those are things you just cannot buy from much larger outsourced companies." – CEO of Tech Startup in Louisville
We have been providing custom app development in Louisville since 2009, working for companies with unique challenges both large and small, and look forward to many more years of serving the Louisville market with custom software development!
Take a look at our GoodFirms listing here, and if you want more information about any of our projects or services, contact us.